FISKER KARMA GETS GLOSSED FULL PAINT CORRECTION / PPF / AND CERAMIC COATING 🏎⚡️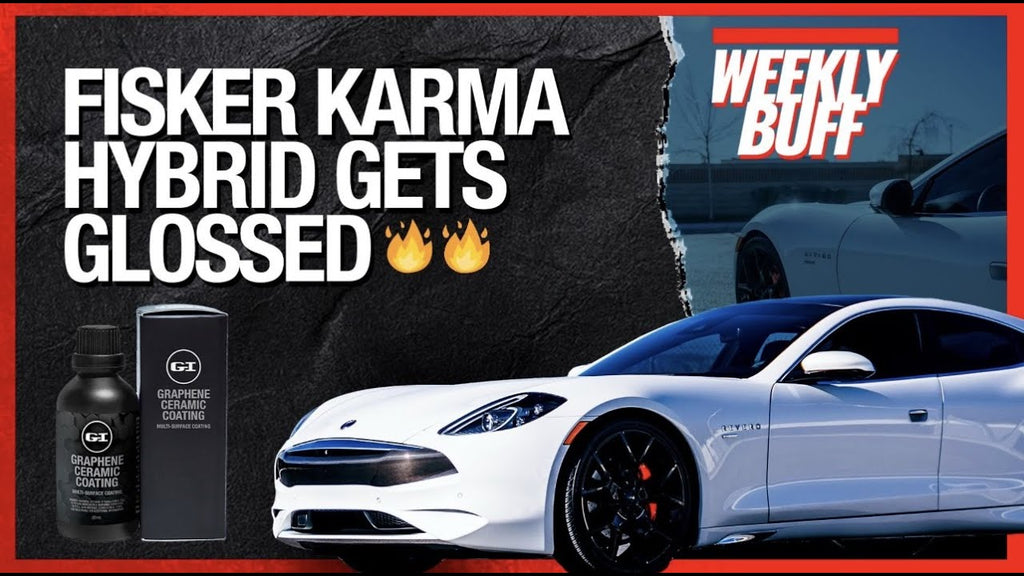 On this edition of the weekly buff we have a unique car you dont see everyday. A Fisker Karma Revero GT. this vehicle is a hybrid with two electric motors and a BMW 3 cylinder turbocharged i8 engine up front. The first thing the crew started with was a full wash and prep as always. We used our EVO Shampoo along with our EVO foam cannon, fresh wash mits as always, and we also used a green claybar to remove anything abrasive that may be stuck on the paint finish along with any metal particles on the finish.
Once that was complete Josh and JR began the process of paint correcting the entire vehicle. It was a two step process using our EVO 21 Polisher with wool and foam pads along with our EVO 800 and 3000 finishing polish. They took their time and removed all the swirls scratches and imperfections that were present in the paint. They even took their time to polish the wheels with our EVO Micro Polisher to ensure they looked brand new before coating. The next step was for Max and Josh to install the PPF for the karma. There are no patterns pre made for this vehicle since theyre so uncommon, the boys had to cut these patterns by hand which actually usually leads to better fits than machine cut patterns. They installed the entire front nose, fenders, and full hood to prevent rock chips, and any damage from day to day driving. The final step was to apply a full array of our Gloss IT EVO Pro Ceramic Coatings. We applied our EVO PRO 9H Titanium Ceramic Coating to the paint finish that wasnt protected with PPF providing up to 4+ years of ceramic protection.
Our EVO Wheel & Caliper coating to ensure that brake dust doesnt stick to the wheels making them easier to clean for up to a year, our EVO Glass Coating to all the glass ensuring that watermarks dont happen and that water doesnt stick while driving making it easier to see in the rain. The final Product we applied was our EVO PPF & VINYL Ceramic Coating to top all of the PPF ensuring that the glue doesnt oxidize and yellow over time, and protecting it from anything abrasive from sticking to the top of the PPF.
The customer was blown away by the results, and couldnt wait to get back on the road. Make sure to visit GLOSSITDETAILSTUDIO.COM today to schedule your vehicle with us.
Leave a Reply