LAS VEGAS KINGPIN GETS HIS NEW F8 THE GLOSS IT SAUCE 😏 CUSTOM PPF & GRAPHENE CERAMIC COATING🔥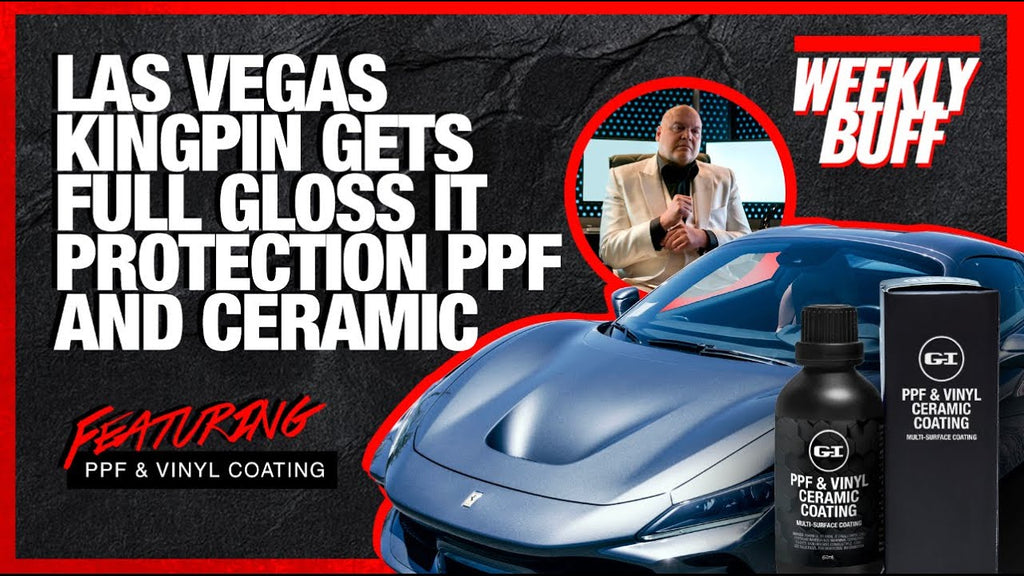 On this edition of the weekly buff we present a repeat customers brand new Ferrari F8. It boasts an amazing 710Hp and 568lb-ft torque, which just means that it sounds good and goes insanely fast. As always the customer requested that the entire vehicle get wrapped in PPF to protect it from the most damage possible, and our best Ceramic Coating to aid the film in protecting the vehicle.
The first thing we did as always was to prep the vehicle with our EVO Foam Cannon, and EVO Shampoo, which allows us to remove the most polymers, and waxes possible if any were applied by the dealership. Max used the softest brushes we have to ensure that we don't add any scratches while prepping for PPF.
Once the crew was done with prep they moved on to the full body PPF install. Max our in house PPF master decided that some of the pieces would work from the program CORE that has PPF patterns for most vehicles, but obviously the side panels, back panels, roof, and doors would need to be custom cut by hand to fit perfectly like they should to look seamless. The crew took about 4 full days to complete this project with Josh jumping in and helping Max with certain pieces.
Once the PPF install was complete we moved on to Ceramic Coating and protecting the entire vehicle with an array of our coatings. The first we used to protect the entire outside of the vehicle was our EVO Pro Graphene Ceramic Coating, that will prevent the PPF adhesive from yellowing, and prevents surface scratches to the PPF. We used our Wheel&Caliper Coating with an air gun to apply even coats to the yellow calipers and the face and barrel of the wheels to make them easier to clean for years to come. For the interior we used our Gloss IT Leather Coating to prevent the beautiful Italian leather from getting stained by clothes, or any other substance that could end up on them.
When the customer picked up his vehicle as always he was left speechless, the deep shine on the paint is amazing and the face of the wheels looks better than brand new wheels. He was more than happy to add this beauty to his amazing collection. If you liked this video make sure to drop a like, comment, and subscribe to our channel for every weekly video, along with instructional videos. If there is anything you'd like to see in future videos on our channel drop a comment and let us know. - GLOSS IT TEAM
Leave a Reply