Our 100th C8 Stingray - and It Belongs to R&B Singer Quincy Jones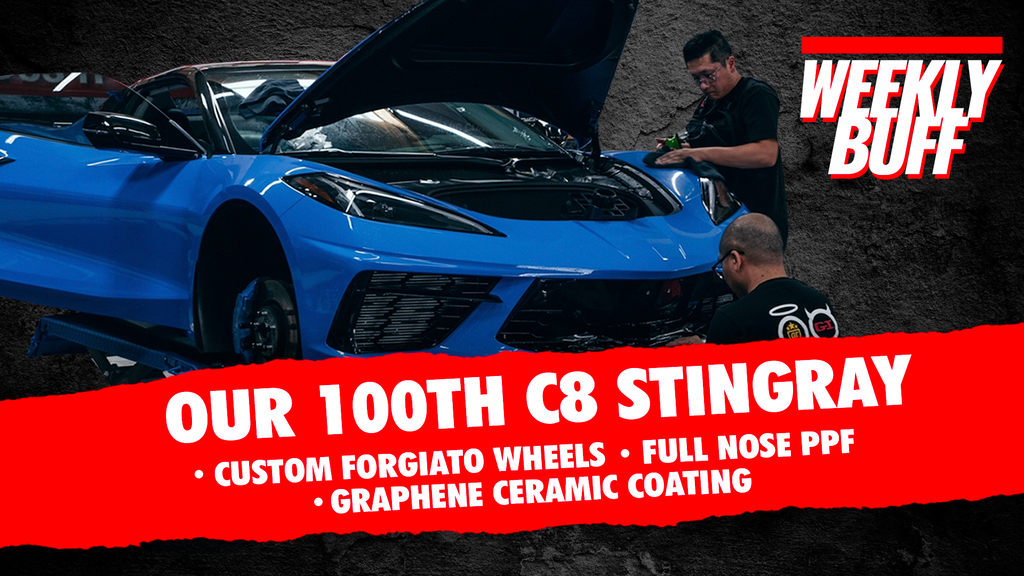 The Back Story
On this edition of the weekly buff our customer Quincy brought us his brand new C8 Stingray in a beautiful Baby blue finish that stands out each time we see this color! He had shopped around a few different shops in Vegas and decided after some research and seeing our guys work on different vehicles that we were the shop he needed to bring his C8 to.
Once he dropped it off we began by prepping the vehicle with a full wash and claybar to remove all contaminants from the paint before PPF and correction. We then moved on to removing the wheel to wash the face and inside of the wheels with our EVO Wheel Gel along with our APC to leave them as clean as possible before we applied our EVO Pro Wheel & Caliper Coating that will make cleaning the wheels easier for at least 12months or longer if they're maintained properly.
Once we finished up with the Wheels we moved on to our in house PPF installer Maxwell who began the full nose installation fenders, and full hood to protect the vehicle from rock chips, sun damage, and any harmful debris that may hit the front while driving. Max does a great job at making sure that every piece installed is rolled so that no seams are visible to the eye and it looks as though nothing is on the paint at all. This process takes a bit longer than usual but it provides the best results for a better longterm quality outcome.
When they finished with the PPF install our boys JR, and Josh began paint correcting the rest of the vehicle and PPF to remove all micro marks that may have been present in the paint. They used our EVO 21 ION machines along with a soft pad and our EVO 2000 Cut Finishing Polish. It was a simple one step process to leave the finish without a single flaw we then moved on to the final step.
Josh and JR moved on to the final step of applying an array of our Ceramic Coatings to finish the project. They began by applying our EVO Graphene Ceramic coating to the finish that wasn't covered in PPF, then where Max had applied PPF we used our EVO PPF & VINYL Ceramic Coating to help prevent the glue from yellowing in the sun and providing a deeper clarity and shine to the PPF for longer. We also applied our EVO Plastic Renew & Protect to all the trim of the vehicle that is black. This coating provides a deep new black look that will last for over 12 months even in the Vegas Heat.
When the customer picked up the vehicle he was ecstatic at the final results and couldn't believe that we could have left it with as deep of a gloss even with the PPF installed. He was more than happy with the results and said he would be bringing us more vehicles from his collection to work on soon. Make sure you leave a comment, like, subscribe, and let us know what else you want to see on our page from different vehicles on the weekly buff to how to use our products just let us know.
Leave a Reply