1964 Cadillac Deville Paint Correction & Ceramic Coating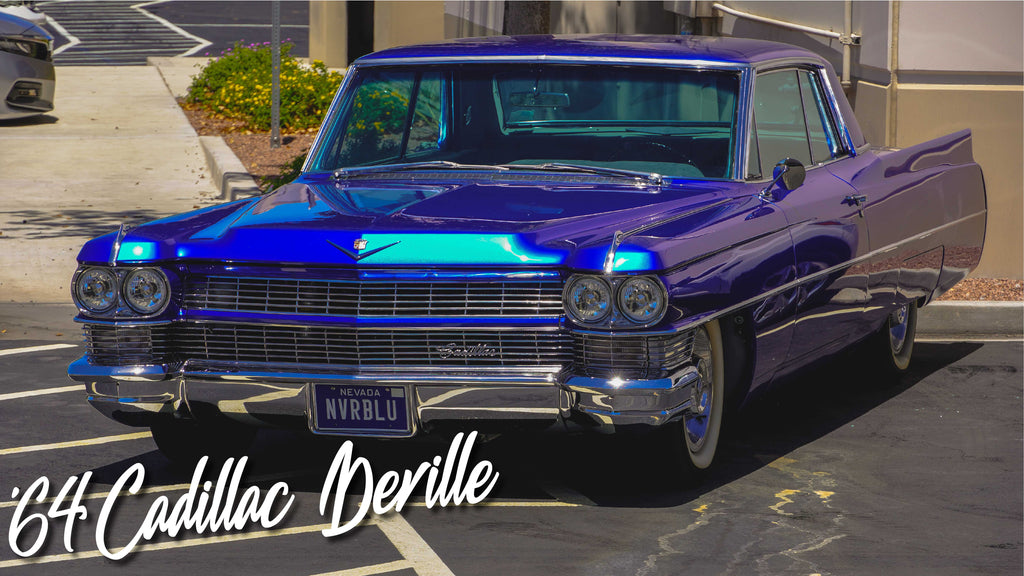 The Back Story
Ryan the Owner of this beautiful '64 Cadillac Deville, picked it up from the back of a friends muffler shop in October of 2009 for $1700. The car was in shambles, and came with 15 boxes of spare and replacement parts. Ryan never intended on doing a complete ground up restoration but the itch was too much and he gave in.
He started by completely disassembling the car and doing a restoration of the chassis. After reassembling the cadi he moved on to the drivetrain and suspension. With the 1964 suspension out of the way he fabbed up mounts for an Accuair airbag suspension setup. Allowing for unlimited adjustment this was the ideal way to make an old car ride better than most new Cadillacs. 
Moving on to the drivetrain, rather than keeping it old school Ryan opted for dropping a 5.3l LS engine and 4L60e automatic transmission, he was even able to make the factory AC work with this setup! With the power now up to par, it was time to stop this lead sled. Upgrading the breaks to 4 wheel disk breaks from the factor drum breaks was a night and day difference in stopping power. The rear end is still the factory posi from 1964 which shows just how robust they built their rear ends in the 60's.
Once it was assembled Ryan did all the paint work in his friends paint booth. The color is a House of Color 'Stratto Blue w/ Ocean Blue Fx', and was laid on thick! This gave us the perfect amount of paint to work our magic and make it look like you are looking into the ocean itself.
Once resprayed, inside and out, Ryan began on the interior upholstry work. Completely revamping the interior with a beautiful light grey leather and grey alcantara. He custom made the rear bench seat into bucket style seats which came out beautifully.
Paint Correction 
We completed a 3 Step Paint Correction: High Speed Rotary with a Synthetic Wool Pad and EVO 800 Heavy Cut compound, followed up with a Yellow Moderate Cut Pad and EVO 2000 Moderate Cut compound, then topped off with a Blue Finishing Pad and EVO 3000 Finishing compound on our EVO 21 Dual Action polisher. This process ensured we were able to remove nearly 100% of the imperfections, less the few nibs.
Ceramic Coating
Once the Paint Correction process was completed, we then moved on to Ceramic Coating. Ryan plans on keeping this car for as long as possible, we applied our EVO PRO 9H Titanium which is our 6 year warrantied coating. Not only does it protect this perfect show car quality finish, it will also provide him with the piece of mind that there will be no oxidation, sunfading, etc. We live in Las Vegas where those issues are prevelant and early onset with the amount of direct sunlight and heat we have on a regular basis.
Leave a Reply