1971 Dodge Challenger RT Sanding, Paint Correction, and Ceramic Coating!!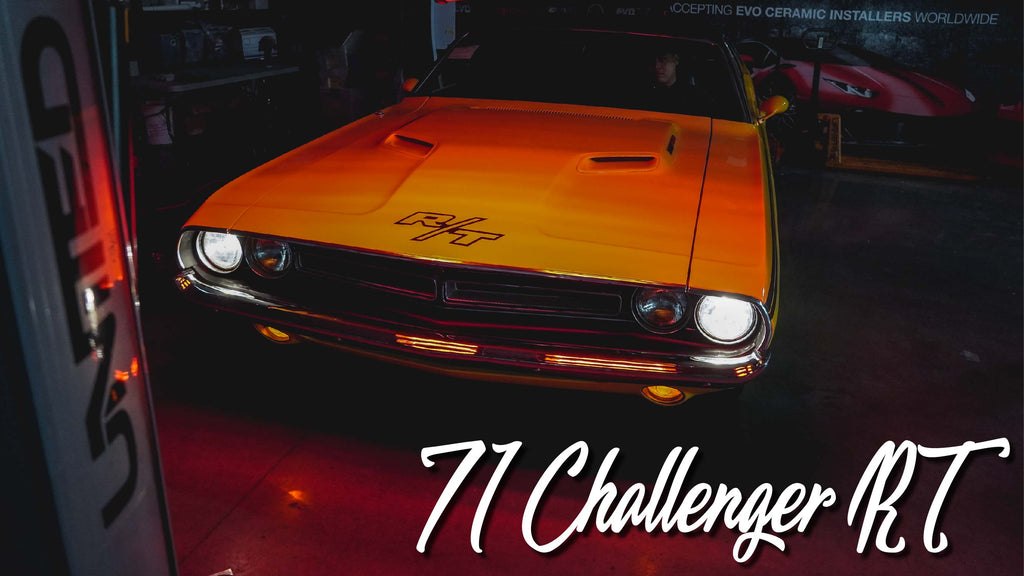 The Back Story
Julius the Owner of this beautiful '71 Challenger R/T purchased the vehicle from a local dealership a few months back and immediately wanted to get it protected. The paint was fairly new as the car had been restored prior to his purchase.
Julius had recently seen our ad that we run on Mecum Auctions which drew his attention to us. We are also the only manufacturer headquartered here in Vegas so it was an easy decision for him to make. 
He wanted nothing short of perfection for his baby, we ended up doing some spot sanding along with paint correction and ceramic coating to ensure that we covered all our bases. The paint was in fair condition prior to us doing any work, that being said it for sure had seen some better days.
Paint Correction 
We did not want to go too hard on the paint as it is a Single Stage paint job. We completed a 2 Step Paint Correction: Synthetic Wool Pad and EVO 800 Heavy Cut compound, followed up with a Yellow Moderate Cut Pad and EVO 3000 Finishing compound on our EVO 21 Dual Action polisher. This process ensured we were able to remove nearly all of the imperfections, less the few heavier things.
Ceramic Coating
Once the Paint Correction process was completed, we then moved on to Ceramic Coating. Julius plans on keeping this car for as long as possible, we applied our EVO PRO 9H Titanium which is our 6 year warrantied coating. Not only does it protect this perfect show car quality finish, it will also provide him with the piece of mind that there will be no oxidation, sun fading, etc. We live in Las Vegas where those issues are prevalent and early onset with the amount of direct sunlight and heat we have on a regular basis.
Leave a Reply