2021 Tesla Model Y Paint Correction, Paint Protection Film, Ceramic Coating, and Ceramic Window Tint!!!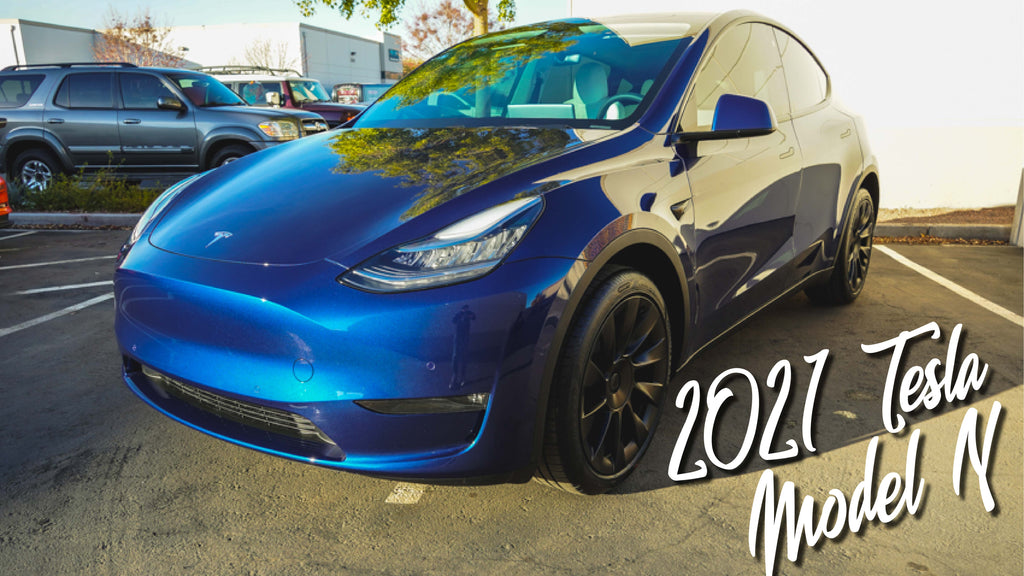 The Back Story
David the owner of this brand new Tesla Model Y wanted to protect his new investment as soon as possible. After doing his research online he came to the conclusion that he wanted us here at Gloss-It to do the work on his car.
Not only did he want to Ceramic Coat this beautiful Blue beauty, he also wanted us to install Paint Protection Film, and Ceramic Window Tint.
We decided on going with a Full Front PPF (Full hood, full bumper, full fenders, headlights, and mirror caps), we also applied our EVO PRO 9H ceramic coating which is accompanied by a 4 year warranty, along with our EVO Plastic Renew and Protect, EVO Window and Glass, and finally topped the interior off with our EVO Leather and Vinyl with EVO Textile Guard on the carpets to protect that amazingly white and vibrant interior.
Paint Correction 
Being that it was brand new we did not need to do much on the correction side of things. That being said we still completed a 1 step paint correction with our EVO 2000 Cut Finish Polish mixed with a few dabs of EVO 3000 Ultra Finish polish and a Yellow Cut Finish Pad on the EVO 21 DA Polisher to get the blue to pop like no other.
Paint Protection Film
After completing the paint correction we went on to apply Paint protection Film to the entire front of the Tesla. We covered all of the major "impact" areas such as Hood, Bumper, Fenders, Headlights, and Mirror caps to ensure he had the highest level of protection against road debris and rock chips.
Ceramic Coating
One the paint protection film was applied we moved on to Ceramic Coating, not only did he choose to go with one of our PRO series coatings, he also chose in my opinion the best coating for his needs. The EVO PRO 9H is our 3rd best coating we offer and provides supreme gloss and depth when it comes to metallic paints, this is in part due to the fact that it has a proprietary glossing agent that truly makes the Metallic flake pop like no other. We also ceramic coated all the Plastic trim with our EVO Plastic Renew and Protect, all the glass with our EVO Window and Glass, and the face of the wheels with our EVO Wheel and Caliper.
Leave a Reply