2019 Corvette ZR1 Paint Correction, Paint Protection Film, and Ceramic Coating!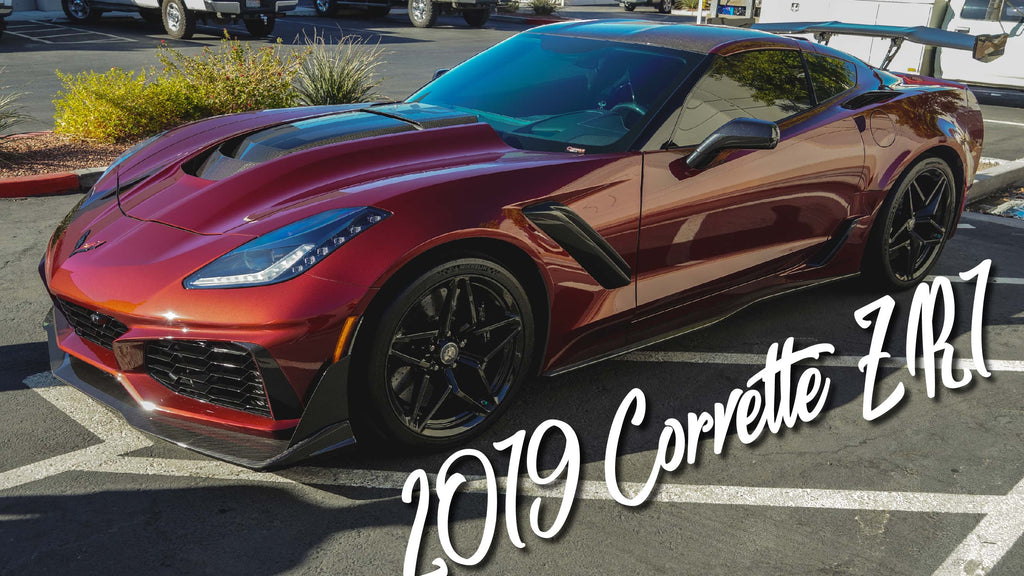 The Back Story
Tim the owner of this 2019 ZR1 Corvette is a long time customer of Gloss-It, we first met when he brought us his Ford F-350 in which he wanted us to paint correct and ceramic coat. We ended up doing a plethora of things to the truck and he was so pleased that when he purchased his ZR1 we were the first place he thought of bringing it to.
Upon taking delivery of his immaculate ZR1 he knew he needed to protect it. We did a full 2 step paint correction, PPF on the full front, the doors, carbon fiber rockers, a-pillars, roof and also a custom rear splash to ensure any and all impact areas were covered. 
A few months back Tim had an unfortunate accident and ended up having essentially the whole front end replaced and re-painted. Once repaired and painted he dropped it off to us to re-apply the PPF and ceramic coating on the areas no longer protected.
Paint Correction 
We had to do a 3 Step Paint Correction: EVO 21 Dual Action Polisher with a with a Wool pad and a few dabs of EVO 800 Heavy Cut compound to remove the existing imperfections from improper washing at the dealership.. The guys then used a Yellow Moderate Cut Pad with our EVO 2000 polish to remove the haziness left from the wool pad and heavy cut compound. Following this the guys used a Black Finishing Foam Pad and EVO 3000 Finish Polish to give it that extra little pop. On the parts that weren't replaced we did a quick 1 step polish to rejuvenate the existing coating and remove any imperfections that may have accumulated over the year that it was applied.
Paint Protection Film
Once the Paint Correction process was completed, we then moved on to Paint Protection Film. Tim plans on keeping this car for as long as possible, along with a lot of daily driving and track days. We wanted to ensure every impact area was covered. We did a Full Front PPF (Full Hood, Full Fenders, Full Bumper, Mirrors, and Headlights). We also did the passenger side door again because it was removed when fixing the front end.
Ceramic Coating
Tim wanted to protect his newly transformed ZR1 Corvette with the best of the best.. We decided on going with our EVO PRO 10H Ceramic Coating which is accompanied by a 8 year warranty. The EVO PRO 10H is our top of the line, pro series of coating which has a proprietary glossing agent in the formula to give the paint that extra "pop" most people are looking for. Not only that, we use some of the highest quality solvents and solids on the market giving it unparalleled gloss and clarity. We also decided on doing a complete Wheels off treatment. After applying two coats of our Wheel and Caliper coating to the entire wheel along with the calipers we moved on to coat all the Glass with our Glass Ceramic Coating along with all the Plastic/Trim bits on the exterior as well.
Leave a Reply