Orange 2020 C8 Corvette Paint Correction, Ceramic Coating, and PPF!!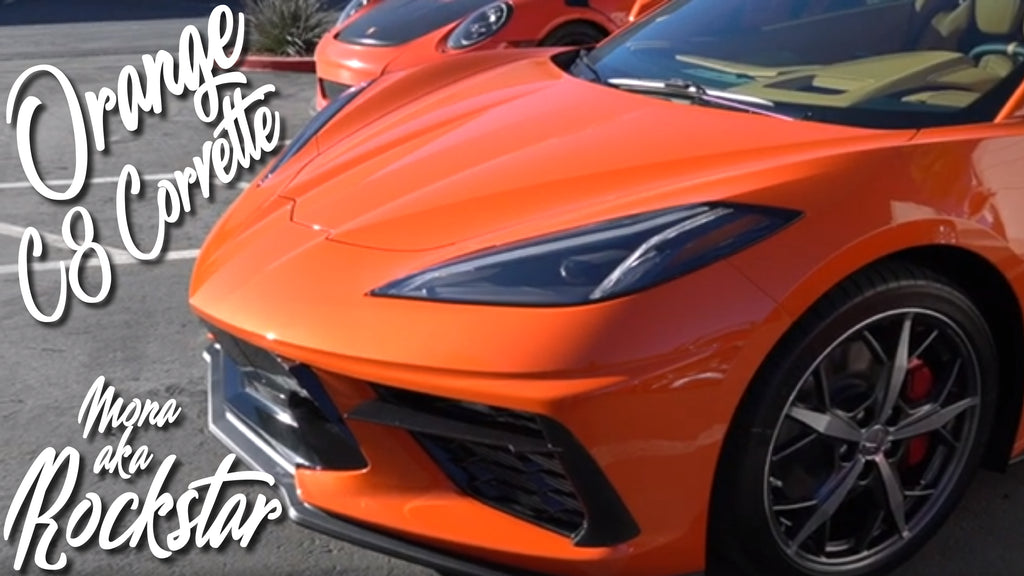 The Back Story
Mona was the first owner of an Orange C8 Corvette here in Vegas. She initially purchased it in November 2019, following the delivery of his new toy she gave a couple shops around town a call to get pricing on Ceramic Coating, Paint Protection Film, and some Light Paint Correction.
After Mona came to visit us here at the Detail Studio, she knew right from the get go that this was the place to have the scope of work done to her car.
Mona was very particular on how she wanted the work done and what the end result should look like. We worked up a plan of action when she dropped it off, to include specifics on the PPF, which level of ceramic coating, and also the different add-on coatings as well, i.e Wheels off treatment, Leather & Vinyl, and also Glass Ceramic Coatings.
Paint Correction 
We essentially did a 1 Step Paint Correction: EVO 21 Dual Action Polisher with a Yellow Moderate Cut Pad and EVO 2000 Moderate Cut compound mixed with a little EVO 3000 Finishing compound. This process ensured we were able to remove nearly 100% of the imperfections!
Paint Protection Film
Once the Paint Correction process was completed, we then moved on to Paint Protection Film. Mona plans on keeping this car for as long as possible, along with daily driving, we wanted to ensure every impact area was covered. We did a Full Front PPF (Full Hood, Full Fenders, Full Bumper, Mirrors, and Headlights). The Bumper alone on these new C8's are 15 pieces of PPF that EACH need to be hand trimmed to give it a perfect looking finish.
Ceramic Coating
Once the Paint Protection Film was completed, we then moved on to Ceramic Coating. Mona wanted nothing less than the best for her baby. We decided on going with our EVO PRO 10H Ceramic Coating which is accompanied by an 8 year warranty. The 10H is our most durable and longest lasting coating we offer. Not only that it uses some of the highest quality solvents and solids on the market giving it unparalleled gloss and clarity. We also decided on doing a complete Wheels off treatment which includes us polishing up the barrels of the wheels and applying two coats of our Wheel and Caliper coating to the entire wheel along with the calipers. David also requested that we coat all the Glass with our Glass Ceramic Coating.
Leave a Reply