2006 Chevrolet SSR Paint Protection Film, Racing Stripes & More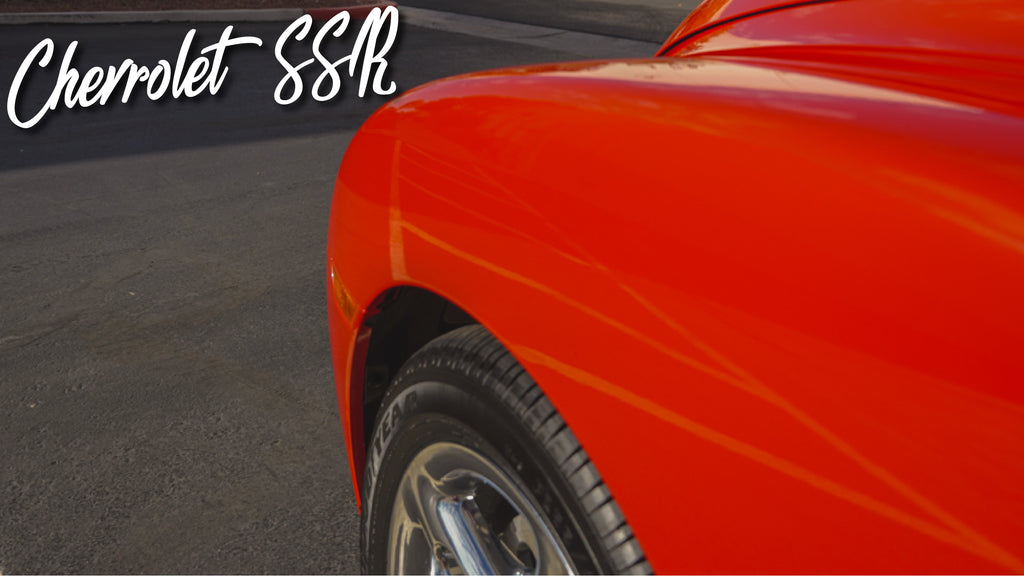 The Back Story
Tony the owner of this 2006 Chevrolet SSR picked it up has a very different collection of cars, from a Vanderhall 3 Wheeler he brought us to test our work on, to this immaculate SSR with ONLY 3,000 original miles.
He has previously been bringing his cars to another shop for Vinyl and PPF work then us to ceramic coat them. This project he decided to give us a try for the full monte. Not only because we can do everything he wants, but also because he saw the true level or work and attention to detail we put into every job we take on.
We did everything for him, 2 step paint correction, Full Front Paint Protection Film to include Headlights, Mirrors, and A Pillars, Custom Vinyl Racing Stripes, Roof Vinyl Wrap, and then Ceramic Coating. This was a very fun project as there were a lot of different moving pieces. We had to get everything done by specific deadlines to ensure that no other arm of the job was delayed. All in all the PPF and Vinyl work took the longest time as they required the utmost detail.
The most difficult part in this project was the racing stripes, Tony was VERY particular on the dimensions and lay out of the stripes. He wanted nothing less than perfect, so we provided perfection!
Paint Correction 
We completed a 2 Step Paint Correction: High Speed Rotary with a Synthetic Wool Pad and EVO 800 Heavy Cut compound, followed up with a Yellow Moderate Cut Pad and EVO 2000 Moderate Cut compound on our EVO 21 Dual Action polisher. This process ensured we were able to remove nearly 100% of the imperfections. Even though it has less than 5,000 miles there were some remanence of swirls, light scratches, etc that we wanted to address before beginning the ppf and vinyl work.
Paint Protection Film
Once the Paint Correction process was completed, we then moved on to Paint Protection Film, this was a beast in itself. SSRs' fenders are one of the MOST DIFFICULT to get a clean install as there are no patterns available to use. Everything must be hand cut and seamed to perfection. Our guy, who we call The Picasso of PPF, did a phenomenal job at seaming and perfecting these fenders. We did a Full Front which includes Full Bumper, Fenders, Hood, Headlights, and Mirrors. We also did the A Pillars to ensure all 'Impact' areas were protected.
Custom Vinyl Racing Stripes
After completion of the PPF we worked on laying out the Custom Vinyl Racing Stripes. As previously mentioned Tony was very specific on how he wanted them to look. He gave us exact dimensions. 7.5" Stripes, with a 1/4" gap then 1/4" pinstripes to enclose the racing stripes themselves. He also wanted the pinstripe to end exactly half way down the rear trim piece, and the stripes on the front to follow to contour of the V shaped body lines on the front bumper. Having this much specificity makes things easy as there is no guess work but also takes a lot more prep. We layed everything out in Killer B Painters tape to ensure everything was kosher, then went on to striping the truck. He also wanted us to vinyl wrap the roof along with the rear trim right below the stripes. These subtle accents give it more character but doesn't make it ricey.
Ceramic Coating
At this point everything was complete less the ceramic coating. Tony does not drive this truck on a daily basis and it is mainly garage kept in a climate controlled warehouse. He decided to go with our EVO 7H Ceramic Coating which we warranty for 3 years against any sort of Oxidation, Sun Fading, Yellowing and Staining. This coating is an awesome product for him since it does not see the road our direct sunlight as often as most.
Leave a Reply